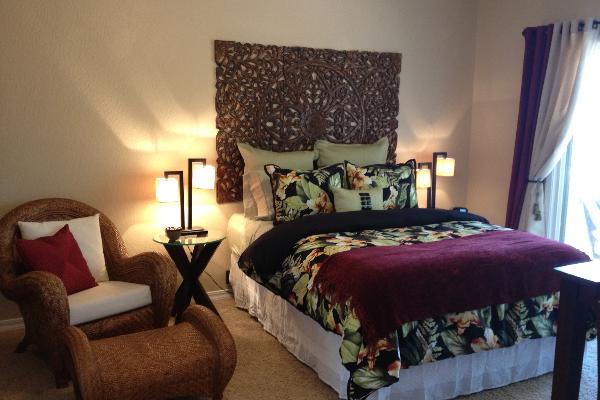 About Hidden Grove Getaway
Relax in style, enjoy outdoor adventures, tour local award-wining wineries, soak at Harbin Hot Springs!

Hidden Grove Getaway is a private charming studio-apartment with a queen-sized bed, fully-appointed kitchenette, spacious bathroom and furnished covered deck. This newly-remodeled living space, with its own private entrance, is located on the lower floor of a two-story home in a pleasantly tucked-away neighborhood in beautiful Lake County, California.

Relax on your private covered deck, watching the hummingbirds and finches eating nearby. Enjoy your morning coffee or a glass of local wine at the end of your day. Take-in the changing colors of the sunset through the large oak tree in the backyard and gaze at the millions of stars in the brilliant country sky.

With your own private entrance, you can come and go on your own schedule. There is off-street parking in the driveway for ease of loading and unloading your car.

The kitchenette is stocked with a small refrigerator, microwave and hot plate for light cooking. There are dishes, cutlery, and glasses for your convenience. A table allows for dining, writing or surfing the web for local attractions on your free wi-fi. Outside is a BBQ, for those who enjoy grilling.

Complimentary Peet's coffee (regular & decaf), an assortment of 'Republic of Tea' teas and Half & Half are provided for your enjoyment.

The queen-sized bed is comfortable with a down comforter and lots of pillows. Extra pillows and blanket are located in the closet. Enjoy your special music stored on your iPod or iPhone with the iPod alarm clock radio. A 32" flat screen TV hangs on a wall for watching your favorite TV shows, movies (a selection of DVD's are provided) or to catch the game!

Let me know if your stay is for a special occasion. I would love to help it be even more special with the addition of fresh flowers, balloons, etc.

Hidden Grove Getaway is conveniently located:
* 2 hours north of the San Francisco Bay Area and Sacramento.
* 15 minutes to Harbin Hot Springs ~ a unique oasis of relaxation and rejuvenation.
* 20 minutes to Clear Lake ~ Enjoy fun in the sun at California's largest natural lake!
* Close proximity to the world-class wineries of Napa Valley & Lake County.