Resource Center
Summer 2008 Newsletter
In this issue:
Welcome
Dear WebReserv customer,
The summer has arrived and judging from the number of reservations coming through WebReserv, most of you are very, very busy. On our end, we continue to enhance WebReserv so you can focus on running your business while we take care of your online bookings.
Did you know that updating your WebReserv listing can contribute to more business? That's right. A strong powerful description of your business combined with multiple pictures is the best way to increase customer traffic and utilization. Just as important is using the right keywords for your listing. In our tips & tricks section you'll find tips on how to improve the search keywords for your business.
We are also welcoming WebReserv.eu - our new sister site dedicated to businesses in Europe. With our new European site we can extend the high level of service and support directly from our office in Spain.
Finally we wish all of you a happy and busy summer.
Best regards,
WebReserv.com
Online payments made E-A-S-Y
We have improved the payment options on WebReserv, making it easier for you to control when and how customers pay for their reservations.
With the new payment module, you can specify which payments that you accept such as cash/check, PayPal and credit cards. You can also specify which credit cards you accept, such as Visa, Mastercard, American Express, Diners and Discover cards.
To view and update your payment settings, log on to your WebReserv account and click Setup - Business - Payments. In addition to the payment settings, you can specify your currency if different from US dollars.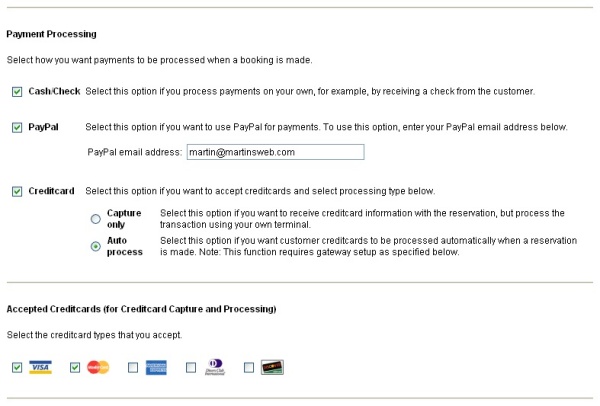 Payment options include:
Cash/Check
If you allow cash or check payments for reservations, select this check box.
PayPal
If you accept PayPal for payments, mark the PayPal box and enter the PayPal email address associated with your PayPal account. Upon completing a reservation with PayPal payments, the customer will be directed to a PayPal site where their payment can be completed.
Credit cards
For credit cards, you can choose between capture and auto-processing. With credit card capture, WebReserv will keep the credit card information on file, but will not process the credit card payment. This is similar to many hotel reservations, where the credit card is processed only if the customer does not show up (no-show). Automated processing gives you to flexibility to have the credit card charged immediately when a reservation is made. Don't forget to specify which credit cards that you support.
The new payment screen will be available on Wednesday, July 9th. We recommend that you log in on this date to review your payment settings and accepted credit cards.
WebReserv now in Europe
For those of you located in Europe, we are pleased to announce that we have launched a sister site designated to the European Market. The new site, WebReserv.eu, is run out of our office in Spain and provides our European businesses with the same high level of service and support known from the US.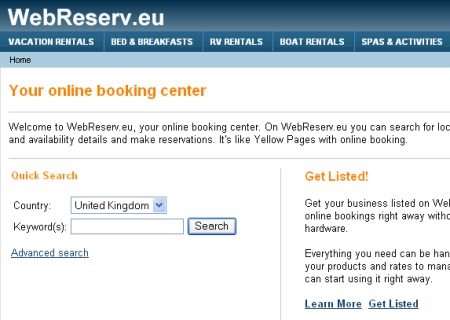 Our sister company in Europe can also help with website design and large-scale solutions. For more information about our European operations, please visit www.webreserv.eu.
Useful tips
Tips & Tricks: Improving search keywords
You may have asked yourself how you can improve the number of visitors to your WebReserv listing? Well, as mentioned in the introduction, part of the trick is to have a comprehensive description of your business and include as many pictures as possible, but just as important are the keywords for your business.
The keywords is what makes Google, Yahoo, MSN and other websites look for when customers search for your services on the Internet. The keywords should at a minimum include what you provide, where you are located and business name. For example, if you have a boat rental company in Miami, Florida, your keywords could look like this:
Miami Boat Rentals, Boat Rentals, Miami, Florida, luxury boat rental, motor boat rental, watercraft rentals, Joe's boat rental
To specify the search keywords for your business, log on to your WebReserv account and go to Setup - Business - Keywords. Each keyword or key sentence should be separated by a comma as shown above and should not include special characters such as & or ".

Extra tip: You can also advertise your website and WebReserv listing on free sites such as Craigslist.com and Backpage.com. It all helps generating more exposure and more traffic and it only takes a few minutes to create the free listings. Update your free listings every 10 days increases the traffic to your site.
Have a question? Write us and let us know.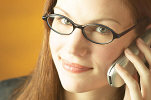 We want to hear from you
We always want to hear from our customers. Your suggestions are invaluable for us to continue to make WebReserv.com even better. If you have ideas for features that can help you run your business smoother, let us know by sending your thoughts and suggestions to support.

We look forward to hearing from you.