Resource Center
January 2009 Newsletter
In this issue:
Welcome
Welcome to the WebReserv.com January 2009 Newsletter.
We hope that you had a wonderful holiday and Happy 2009. This year we have planned a number of new features that will help you improve your business operations and generate more customers.
With the current economic downturn, it is vital for small businesses to be well positioned and highly visible on the Internet. By staying visible on Internet, you will attract more customers and keep the business running during the downturn. For that very reason, we have focused this newsletter on how you can improve your visibility on the Internet.
Market research has indicated that web reviews are more important for consumers than any other content. That is why we have added a review function to the WebReserv online booking system. With our new customer review feature, you can easily have customers post reviews about your business, and thanks to our prominent position on Google and Yahoo, it's easy for new customers to find the reviews, services and products from your business.
Best regards,
WebReserv.com
Get your online reviews today
Eight out of ten online shoppers indicated that online reviews were influential in their purchase decisions. That's right - customer reviews is one of the most important influencers for new customers.
The new customer review feature on WebReserv makes it easy to collect customer reviews from existing customers and share them with new customers. Your WebReserv account already includes this feature, so all you have to do is tell your existing customers where to post the reviews.
The customer review feature consists of two different reviews screens, one for your customers and one for your business. The customer review screen shown in the picture below can be found on your business listing on WebReserv.com. There is also a review writing section where your existing customers can post new reviews.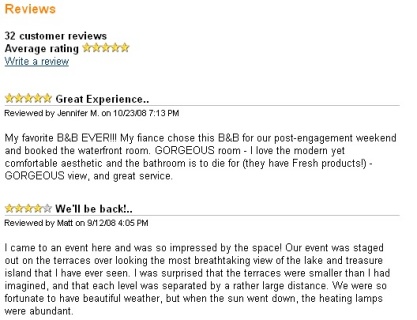 To help you monitor the reviews, we have also added a review section to the Frontdesk. To view your reviews, log on to your WebReserv account and go to Frontdesk - Reviews. Here you can view your customer reviews. You cannot edit customer reviews, but you can delete reviews that are inappropriate for your business.
To get customer reviews added to your business listing, tell existing customers to go to the online review section to provide a review of your business. You can find the Internet address for your review section in administration module (see screenshot below) - simply email your customers with the URL and ask them to provide a review and soon you'll see the reviews coming in.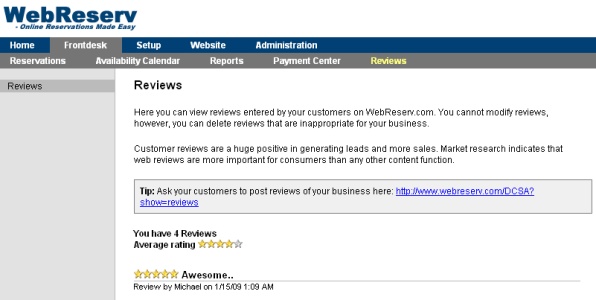 Supercharge your online bookings
There are always plenty of tasks for small businesses and it can be challenging to determine where to spend marketing time. So we have put together a handy list of the top 10 most important activities to improve your online listing. Most of the tips can be implemented in less than an hour, and it will pay off during the entire year in terms of more business, so put it on the top of your today list today.
1. Update your business description.
Updating your business description is critical. Customers favor businesses with comprehensive descriptions of the business and each rental unit or service. To update your listing, log on to your WebReserv.com account and go to Setup - Business Information - Description.
2. Update your pictures.
It is said that a picture says a thousand words and it is especially true for online shoppers. Review your pictures and upload new pictures if necessary. The more pictures you have, the better. Ideally, each picture should have a resolution of 800 by 600 or 1024 by 768. These pictures looks the best on most computers. Don't forget to add a description for each picture so that your customers will know what they are looking at. To update your pictures, go to Setup - Business Information - Pictures.
3. Update your business category.
We continue to increase the number of categories on WebReserv.com. Go to Setup - Business Information - Category to review the available categories and change your category if necessary.
4. Update your search keywords.
The keywords is what Google, Yahoo, MSN and other websites look for when customers search for your business on the Internet. The keywords should as a minimum include what you provide, where you are located and business name. For example, if you have a boat rental company in Miami, Florida, your keywords could look like this: Miami Boat Rentals, Boat Rentals, Miami, Florida, luxury boat rental, motor boat rental, watercraft rentals, Joe's boat rental. Go to Setup - Business Information - Search Keywords to update your keywords.
5. Update products/units descriptions and pictures.
Just like you can describe your business and upload pictures of your business, you should review the description of each product/unit as well as the pictures. To do this, go to Setup - Product & Reservation Rules and review your products one by one.
6. Update rates for the 2009 season.
Customers can only make a reservation if the booking system knows the rate. Make sure that you have rates to the end of 2009 or even later. Go to Setup - Rates and review the rate lists and the valid from and valid to date for each rate list. You need a new rate list for each time the rates change. For example, if you have different rates for spring, summer and fall, you should have 3 rate lists, one for spring, one for summer and one for fall. Tip: If your existing rates goes to the end of 2008, simply change the valid to date to 2009 and update the rates to reflect the rates for this 2009.
7. Add reviews to your business listing.
Possibly one of the most important ways to increase the number of new customers is to provide reviews from other customers. Send an email to your existing customers and ask them to provide a review for their last stay or rental. On your own website, you should create a link to the customer reviews on WebReserv.com.
8. Offer discount to repeat customers and referrals.
Use the discount code feature on WebReserv to incite existing customers to come back and/or refer new customers. It's easy to create a discount code. See the article on our blog (http://webreserv.wordpress.com/2008/05/08/attract-more-customers-with-discount-codes/) on how to create discount codes.
9. Send a newsletter with discount codes to customers.
WebReserv makes it easy to download a list of previous customers. Go to Frontdesk - Reports and select Customer Report. You view the report as an HTML file or download it as CSV and import it into most database and spreadsheet programs.
10. Get links to your website.
Ask other businesses if they want to partner or would be willing to add your link to their website. It's free advertisement in most cases and you would be surprised how many small businesses take advantage of linking with others. This will improve your position with the major search engines and make it easier for customers to find you online.
Useful tips
Tips & Tricks: My availability calendar is gray, what is going on?
When you view the availability calendar on your website or WebReserv.com, you might see that the dates are grayed out as shown in the example below.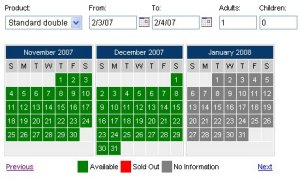 The grayed out dates happen when no rates have been set up for the specified period of time. In the example shown above, rates have only been defined to December 31st and the dates from January 1st is therefore grayed out.
It is not possible to make a reservation for dates that are grayed out, so always put in rates as far out as you have them.
Have a question? Write us and let us know.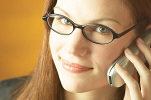 We want to hear from you
We always want to hear from our customers. Your suggestions are invaluable for us to continue to make WebReserv.com even better. If you have ideas for features that can help you run your business smoother, let us know by sending your thoughts and suggestions to support.

We look forward to hearing from you.