Resource Center
Fall 2009 Newsletter
In this issue:
Welcome
Welcome to the fall newsletter.
As usual, we are describing some of the exciting new features in the WebReserv booking system. Included this time is a pre-visit / post-visit email that can be used to improve customer relationships. We have also improved the rate setup screens to make it more intuitive to setup rates for all types of businesses.
Nothing is more important that increasing customer flow, especially in weak periods. To help you get more business, we have included a search optimizer with your WebReserv account. The search optimizer helps you improve your search ranking and with a higher search ranking more customers can find your business online.
Finally we are pleased to welcome Hill Country Travel Center. Hill Country Travel Center is a website dedicated to Hill Country in Texas. The website's booking engine is powered by WebReserv and thereby making it possible for the lodgings in the area to be listed on the Hill Country website and the WebReserv portal at the same time.
We hope that you will find the new improvements helpful and as always we welcome your feedback.
Best regards,
WebReserv.com
New Feature: Pre / Post visit email
We have added two new emails to the email templates: A pre-visit and a post-visit email. The pre-visit email is sent out before the date of arrival/rental. The pre-visit email can be used for multiple purposes:
General reminder of the reservation date/time
Practical information (clothes to bring, directions etc)
Weather
Payment information if full payment is required prior to arrival
The post-visit email is sent out after the end of the booking/rental period. The post-visit email can be used to:
"Thank you for choosing us"
Encouragement to post reviews of your business
Discount codes for future reservations
As always you can choose to use the standard email templates provided in the system, or you can create your own templates.
The standard pre-visit email is sent out 7 days before the booking/rental date and contains a "we look forward to see you" message. The standard post-visit email is sent out 7 days after the booking/rental date and contains a "Thank you" message and an encouragement to post a review for your business.
To use the standard templates, simply go to Setup - Products & Reservation Rules – [Product] - Automatic Email Notifications and select the default pre-visit and post-visit emails.
You can also create your own email templates. To do this, go to Setup - Emails and select create new template.
New Feature: Improved Rate Setup
WebReserv now supports a new rate option: per person (flat), which makes it easier to set up flat rates for reservations. At the same time the rate setup has been updated to make it easier to enter the rates.
When you create new rate lists, the rate that is entered in each column is the total rate for the number of people in that column. Previously, each column indicated the rate per person.
In the example below, the rate for the first two people in the Standard Double room is $200.00. There is an extra charge of $50.00 per person, so the rate for three people is $250.00 and the rate for four people is $300.00.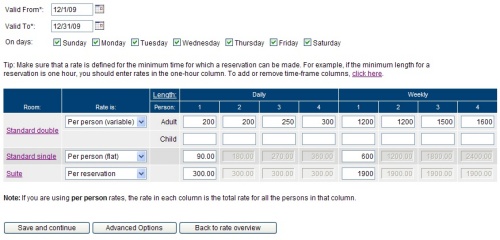 Note that rate lists created before August 31, 2009 will still use rate per person in each column.
WebReserv welcomes Hill Country Travel Center

WebReserv is pleased to welcome Hill Country Travel Center. Hill County Travel Center is one-stop website for planning trips to the scenic Hill Country in Central Texas. Customers can use the website to browse for accommodations, restaurants, attractions, campgrounds, RV parks and much more.
The Hill Country Travel Center is operated by and is a service of the Travel Co-op, Inc., a non-profit Texas co-operative. The co-operative is member owned and has as its primary purpose the promotion, support, and development of tourism in the State of Texas.
The website uses WebReserv as the booking engine and this allows for members to be listed Hill Country Travel Center website and the WebReserv website all at the same time. The WebReserv booking system ensures that the booking calendars are synchronized to avoid double-booking.
For more information about the Hill Country Travel Center, please go to:
http://www.hillcountrytravelcenter.com/
To hear more about WebReserv's Portal Technologies and how it can be used to power regional websites and association websites to make reservations, please contact WebReserv Support.
Useful tips
Tips & Tricks: Get more customers with the Search Optimizer
The Search Optimizer is a new feature that helps you get more customers by optimizing your search position on the WebReserv portal.
The search optimizer is incredibly easy to use. Just log on to your WebReserv account and go to Website - Search Optimizer. The Search Optimizer analyses 6 different areas and will provide you with tips on how to improve your search ranking position.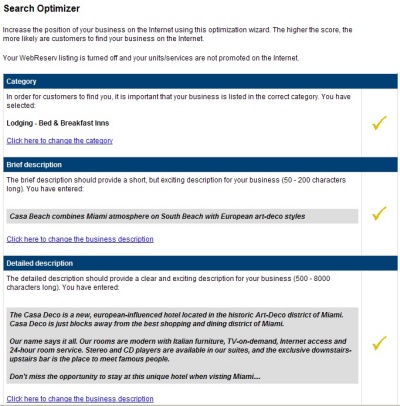 The better your search ranking position is, the higher your business is listed in search results. The business listings with the highest rankings are randomly selected to be shown on the WebReserv frontpage.
Have a question? Write us and let us know.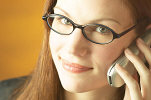 We want to hear from you
We always want to hear from our customers. Your suggestions are invaluable for us to continue to make WebReserv.com even better. If you have ideas for features that can help you run your business smoother, let us know by sending your thoughts and suggestions to support.

We look forward to hearing from you.