Resource Center
Spring 2010 Newsletter
In this issue:
Welcome
Welcome to the WebReserv Spring newsletter!
Your competitors are ready for the spring and summer season – are you?
Spring is the time for spring cleaning and for getting ready for the upcoming season. Customers are already now booking travel and activities for the spring and summer, so be sure to get your website and booking system in top-shape. Follow our 5 top tips to get your booking system ready in as little as 30 minutes.
For those of you who use WebReserv for events, tours and tickets, we are pleased to introduce a new calendar especially for you and your customers. The new calendar makes it much easier to see when a tour or event is available.
Finally we're including a handy refresher on how to customize the booking calendar to fit your website.
Best regards,
WebReserv.com
Get ready for the season in 5 easy steps
It seems like there is never enough time in the day to get everything organized. But getting your systems ready for the spring and summer season is one of the most important tasks. Many businesses miss out on thousands of dollars in revenue by not following these simple steps.
Your time is valuable so we've picked the top 5 tips that will help you get more customers.
1. Update your rates.
The online booking system will only allow customers to make a reservation if it can find valid rates for the season. To check your rates, log on to your account and go to Setup - Rates. You should have rates at least until the end of 2010.
2. Update your business description.
Updating your business description is critical. Customers favor businesses with comprehensive descriptions of the business and each product or service. To update your listing, go to Setup- Business Information - Description.
3. Update your pictures.
It is said that a picture says more than a thousand words and it is especially true for online shoppers. Review your pictures and update new pictures if necessary. The more pictures you have, the better. Ideally, each picture should have a resolution 1024 by 768 or greater. Don't forget to add a description for each picture so that your customers will know what they are looking at. To update your pictures, go to Setup - Business Information - Pictures.
4. Update your search keywords.
The keywords is what makes Google, Yahoo, MSN and other websites look for when customers search for your business on the Internet. The keywords should as a minimum include what you provide, where you are located and business name. For example, if you have a boat rental company in Miami, Florida, your keywords could look like this: Miami Boat Rentals, Boat Rentals, Miami, Florida, luxury boat rental, motor boat rental, watercraft rentals, Joe's boat rental. Go to Setup - Business Information - Search Keywords to update your keywords.
5. Send discount codes to previous customers.
Make discounts codes that your customers can use or pass on to friends and family. Referrals is the best form of advertisement that you can get, and the cost of a referral discount is many times lower than the cost of attracting customers through regular advertisements and keywords. Go to Setup - Discount Codes to create one or more discount codes. You can download email addresses and other contact information for previous customers. To download email addresses, go to Frontdesk - Reports and select Customer Report.
Extra tip:
You can also advertise your website and your WebReserv listing on free sites such as Craigslist.com and Backpage.com. It all helps generating more exposure and more traffic and it only takes a few minutes to create the free listings. Update your free listings every 10 days increases the traffic to your site.
New Features
Improved Booking Calendar for events, tours and tickets
We have improved the booking calendar for scheduled events, tours and tickets. The new calendar makes it easier for customers to see available dates. To get the new booking calendar enabled for your business, go to Setup - Business Information - Advanced Options and set Show calendar for event/tour bookings to yes.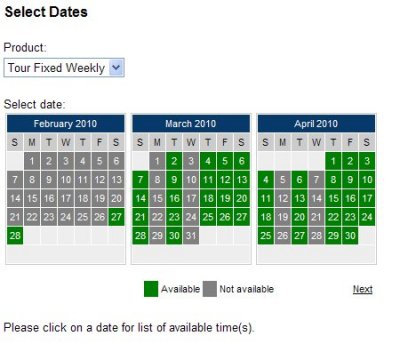 Minimum length for weekends and holidays
It's now much easier to specify a minimum length for weekends and holidays and you can specify different rules for each product. The minimum length for weekends and reservation rules is specified under Reservation Rules.

New discount code rules.
Four new rules have been added to the discount code setup: Minimum length, maximum length, minimum number of persons and maximum number of persons. The new discount code rules makes it easier set up discount codes for bed & breakfasts bookings, vacation rental bookings and other types of businesses.
For example, you can create a discount code that is valid for only for visits that are minimum 2 days and has 5 persons or more on the reservation.
To set up discount codes, log on and go to Setup - Discount Codes.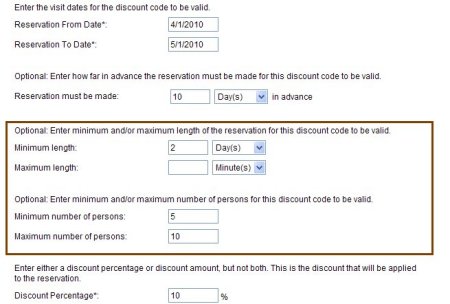 Block time before and after.
You can now block out time before and/or after hourly reservations. The block time is useful when equipment has to be prepared or cleaned. The block time before and after is specified under Time Rules and each product can have different block time settings.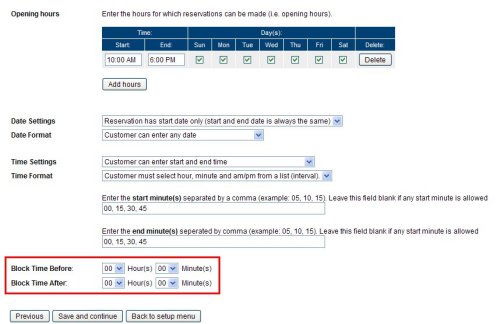 Useful tips
Tips & Tricks: Coloring the booking calendar
You probably already use the booking calendar on your website, but did you know that you can change the color scheme to make it blend perfectly with your website? And you can even control what products or tours to show in the booking calendar.
This is used by many businesses to create a calendar that shows the availability for the exact product or tour that the customer is looking on the webpage.
To learn more about how to customize the booking widget, read our online tutorial here:
http://www.webreserv.com/articles/20090518
You can also find tips and tricks in our blog:
http://webreserv.wordpress.com/category/booking-calendar
Have a question? Write us and let us know.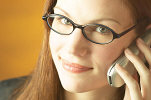 We want to hear from you
We always want to hear from our customers. Your suggestions are invaluable for us to continue to make WebReserv.com even better. If you have ideas for features that can help you run your business smoother, let us know by sending your thoughts and suggestions to support.

We look forward to hearing from you.