Resource Center
Summer 2010 Newsletter
In this issue:
Welcome
Welcome to the WebReserv Summer newsletter!
In this newsletter we are pleased to announce several new features, including the ability to create custom forms for printing, a handy way to add agent codes for referrals and affiliates and finally we have included tips on how to find reservations faster.
As always, we trust that our system helps your business to get more customers and that it helps you with your daily work load. We encourage you to send suggestions to our support group.
Best regards,
WebReserv.com
Arriving June - Printable forms
Just in time for the summer season, we have added the ability for you to create your own printable forms.
The printable forms is great news for those businesses that has additional printing needs such as rental agreements, liability release forms and similar forms. You can use the built-in forms or create your own custom forms using the template setup screen.
When you need to print one or more forms, simply open a reservation and click "Printer friendly format" and select the appropriate form from the drop-down list. You can even print reservation confirmations and other email templates from the menu.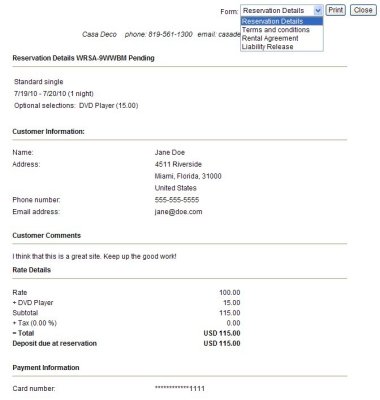 To create your own custom forms, go to Setup - Templates and select Add Template. The template editor allows you to basic styling, such as font selection, bold, italics, underlines and so forth.
Similar to email templates, you can use system keywords to include reservation-specific information including customer information, reservation details, payment details and so forth.
New Features
Additional person categories
Some businesses have more price categories than just adults and children. For those businesses we have added the ability to specify up to two additional categories.

To customize the names of the categories, go to Setup - Business Information - Advanced Options.
Agent codes
We have added a new optional field – agent code – to the customer fields. The agent code can be used by affiliates and partners to enter an identification that later can be used for commission payments.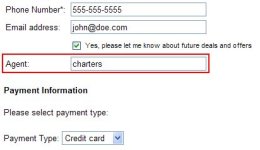 Once an agent code has been stored with a reservation, it cannot be changed. For reservations made in the administration system, the agent code will automatically be set to the username of the user creating the reservation.
It is also possible to include the agent code in the URL to the booking calendar. This enables you to give agent-specific booking calendars to your affiliates. To add the agent code to the URL, add the parameter &agent=agentcode to the booking calendar URL (replace agentcode with the actual agent code for each agent).
The agent field must be abled for the field to show up in the booking calendar. To enable the field, go to Setup - Products & Reservation Rules - Product - Customer Information.
Useful tips
Tips & Tricks: Finding reservations the easy way
The new reservation search screen makes it easier to find specific reservations. You can use as few or as many parameters as needed. To search all reservations, simply leave all fields empty.
Tip: When searching for a specific reservation code, you don't have to enter the "WRSA" part. In fact, you can enter as little or as much of the reservation code that you want to. The system will list all reservations that match the partial reservation code that you entered.
To find reservations, click Frontdesk in the main menu.

Have a question? Write us and let us know.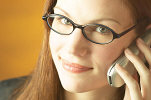 We want to hear from you
We always want to hear from our customers. Your suggestions are invaluable for us to continue to make WebReserv.com even better. If you have ideas for features that can help you run your business smoother, let us know by sending your thoughts and suggestions to support.

We look forward to hearing from you.