Resource Center
Winter 2012 Newsletter
Welcome
Welcome to the WebReserv Winter 2012 newsletter. We hope that you had a great holiday season and we are looking forward to work with you and to help you get even more bookings in 2012.
In this newsletter we will show you many new features in the system including Gift cards, how to integrate to Facebook and how to get listed in multiple business categories.
As always, a big thank you for selecting WebReserv as your booking service provider.
Best regards,
WebReserv.com
Gift cards
A new feature in the system is the ability to sell gift cards. Gift cards can be used later as payment for a reservation. Gift cards has several components:
Gift card definition. The gift card definition is similar to a product or a discount code; it tells the system what the customer can purchase, the gift card value, how long it is valid for and any other information the system needs to be able to sell gift cards.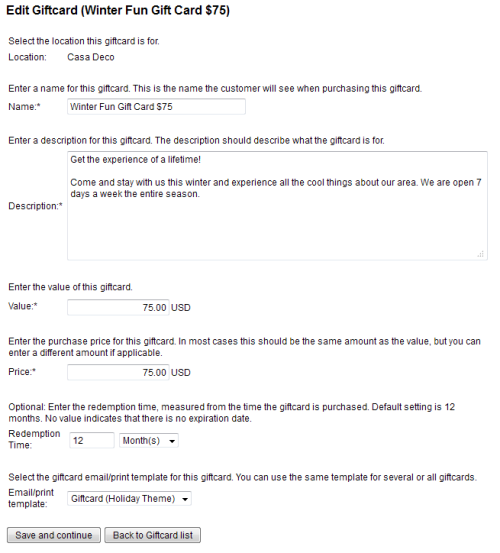 Gift card certificate. When a customer buys a gift card, he or she will receive a gift card certificate via email. The certificate includes important information such as who the gift card is from, the name of the gift card, a description and most importantly, a gift card certificate number. You can use the built-in gift card templates or create your own templates.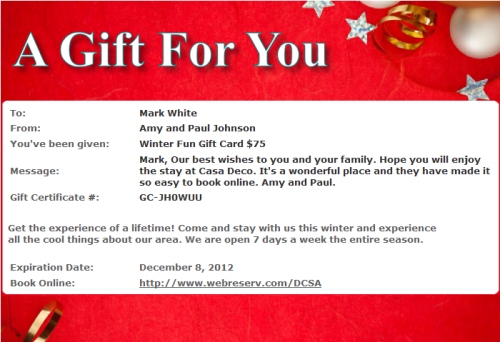 Gift card redemption. When a customer uses a gift card to make a reservation, the system will automatically validates the certificate code and marks the gift card certificate as used, thereby ensuring that a gift card only is used once.

Gift card certificates are stored in the system alongside with your reservations. The gift cards can be distinguished from other reservations or purchases as gift cards starts with the letters GC-.
For more information about creating and selling gift cards in the system, please go to: http://www.webreserv.com/resources/na/help/admin/giftcard_overview.htm
Facebook Booking Calendar
Everybody is on Facebook and we mean everybody. If you are not on Facebook yet, it's time to get online and now you can even get the WebReserv booking calendar added to it.
With the booking calendar added to Facebook, you will immediately increase your customer base. Best of all; the WebReserv booking system is designed to ensure that no double-bookings occur, even if you have the booking calendar on your website and on your Facebook page at the same time.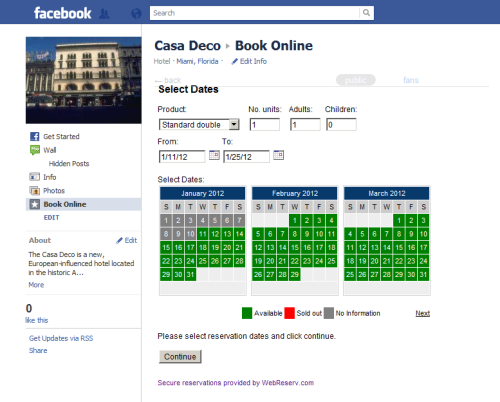 To add the booking calendar to Facebook, please see the instructions here: http://www.webreserv.com/resources/downloads/adding-the-booking-calendar-to-facebook.pdf
Thanks to Nick Harris and Jason Harris at Christopher Creek Lodge for sharing the Facebook tips.
Tips & Tricks
Get listed in multiple categories
WebReserv Gold now allows you to be listed in up to 3 categories at the same time. This is important if you have multiple lines of business or if your business matches different categories. For example, you may want to be listed in the Bed & Breakfast and Log Cabins categories at the same time, or you may offer Bike Rentals and Cycle Tours at the same time.
To review and update your categories, log on to your WebReserv account and go to Setup - Business Information - Categories. On this page you can select the most appropriate categories.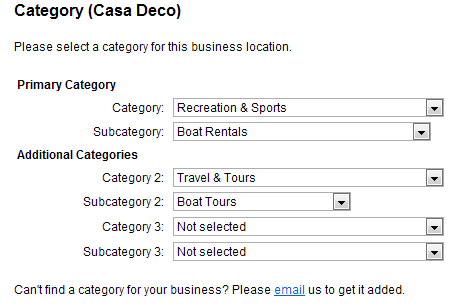 Have a question? Write us and let us know.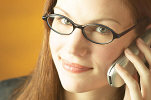 We want to hear from you
We always want to hear from our customers. Your suggestions are invaluable for us to continue to make WebReserv.com even better. If you have ideas for features that can help you run your business smoother, let us know by sending your thoughts and suggestions to support.

We look forward to hearing from you.