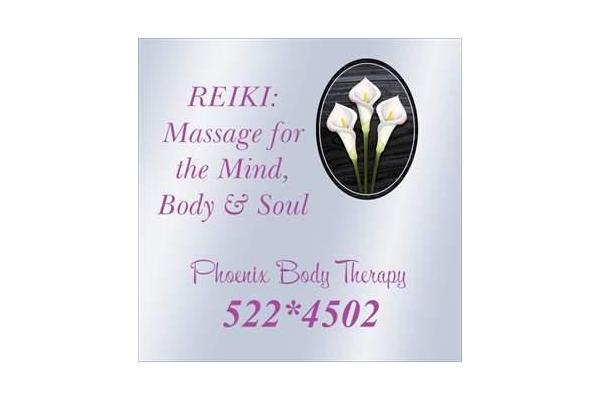 About Phoenix Body Therapy Division of MNS llc
Welcome to Reiki, the ultimate experience in relaxation therapy.

If you are looking to make positive changes in your life, and are open to allowing your best possible self to break free, I encourage you to consider Reiki Therapy. Reiki is a gentle, easy, powerful and effective therapeutic tool.

By allowing the body, mind & spirit to synchronize with breath and positive intention you are able to achieve relaxation at the alpha state. This allows for a deep, total body relaxation that extends beyond the physical, to the mental and emotional bodies, and elevates the art of relaxation to the next level.

While the physical benefits are similar, it is important to know Reiki goes far beyond a standard massage. Reiki Therapy treats the mind, body, & spirit. Each session begins with the individual's goals. In applying proper focus to goals and increasing the impact of individual actions, Reiki will help every individual present their best self.

During a Reiki session, positive energy is channeled to break up and release any blocks that may be preventing an individual from being their best. These blockages appear differently in every individual, some are physical ailments, others are emotional. The releases that occur during a Reiki session gently shift energy in your physical, mental and spiritual bodies and align them to function as cohesive structures. These shifts may cause the receiver to become aware of different sensations varying from tingling and temperature changes to feeling waves of energy move through the physical body, or even nothing at all. Each client, each session, is unique.

Reiki Therapy can help the receiver hone in on answers to mental, emotional and physical concerns, recover from traumatic experiences and help them regain control over their life. . It is important to remember Reiki energy initializes a positive focus of mind, body, & spirit and only positive benefits can come of the sessions. The static hand positions of Reiki leave you calm, relaxed and ready to handle any situation that arises.

Phoenix Body Therapy began in Lakeway in 2009 before relocating to service the central Austin area. Having studied Education & Kinesiology at the University of Texas, and incorporating Reiki energy into her therapeutic endeavors, Reiki Master, Natalie Moore, recognizes the benefits of positive power and designs each therapeutic treatment as a way to educate clients about the benefits of relaxation and its role in allowing the body and mind to heal.

"My goal is for every client to achieve harmony and balance within themselves in order to function at their optimum level. The focus of every session is on positive energy; mental, physical & spiritual well being. "

According to the Mayo Clinic "stress is a normal psychological and physical reaction to the ever increasing demands of life. Surveys show that most Americans experience challenges with stress at some point during the year. In looking at the causes of stress, remember that your brain comes hard-wired with an alarm system for your protection. When your brain perceives a threat, it signals your body to release a burst of hormones to fuel your capacity for a response. This has been labeled the "fight-or-flight" response. Once the threat is gone, your body is meant to return to a normal relaxed state. Unfortunately, the nonstop stress of modern life means that your alarm system rarely shuts off. That's why stress management is so important. Reiki energy can create major shifts for those looking to open themselves up to a higher level of functioning".


Shift your Energy, Change your World, Enhance your Life.

Classes and certification are available for those interested in Learning the Healing Art of Reiki.


"Reiki Therapy: a better experience than explanation"!