Double Nickel Campground
Waco, Nebraska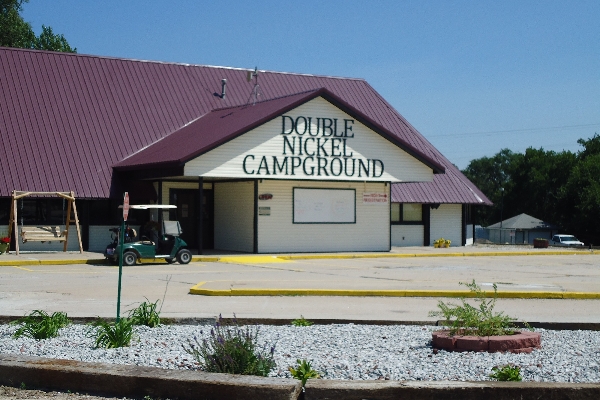 Double Nickel Campground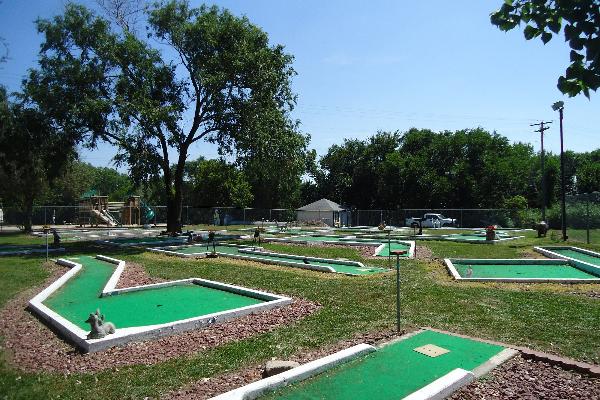 Double Nickel Campground Mini Golf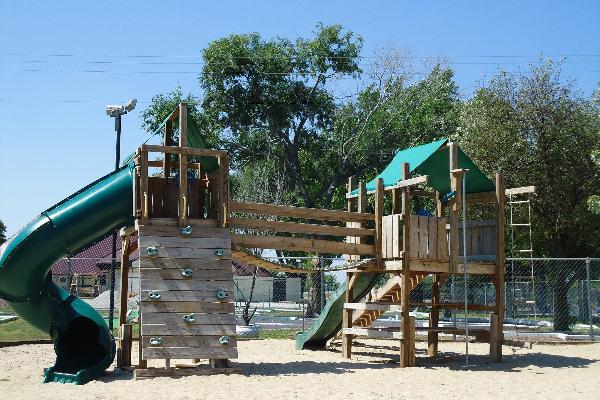 Double Nickel Campground Playground 1
---
Double Nickel Campground Features
Our campground offers:

Long Pull Thrus (some up to 120ft!)
Clean bathrooms and showers
Grassy tent sites
Easy on/easy off interstate access
An escort to your site
Swimming Pool (Memorial Day through Labor Day)
Campground Store
Large Playground area
Mini golf
Dump Station
Free wifi
Dog park
Game room featuring 10 pinball machines
Big screen high definition movies with surround sound on select weekends in our theater
24 hour laundry
Storm shelter for your safety
Owners live on site
Direct access to the Sandy Meadows 9 hole par 36 Golf Course
Conveniently located between Lincoln and Grand Isle and only a few minutes from the new convention center in York
---
Double Nickel Campground Attractions
Near the Double Nickel Campground:

Sandy Meadows Golf Course - Located right next door! Come camp and walk to the golf course!
Smith Creek Recreation Area and Recharge Lake - Only a few miles away.
Lee's Legendary Marble Museum - Come find your marbles in York!
Wessels Living History Farm - A wonderful living history farm! Fun for all ages!
York Children's Museum

A little farther away but worth the drive!

Henderson Mennonite Heritage Park
Indian Cave State Park
Henry Doorly Zoo in Omaha - One of the best zoos in the country!
Arbor Day Farm in Nebraska City
Birthplace of Koolaid in Hastings
Homestead National Monument of America

---
Deposit / Cancellation Guidelines

To guarantee your campsite, a deposit equal to your first night will be charged to your credit card when your reservation is made. 48 hour cancellation notice is required for RV sites and 7 days for camping cabin. All RV site deposits are refundable less a $10 processing charge if you contact the Double Nickel Campground at 402-728-5558 by 2pm two days prior to your scheduled arrival. All camping cabin deposits are refundable less a $10 processing charge if you contact the Double Nickel Campground at 402-728-5558 by 2pm seven days prior to your scheduled arrival. Deposit will be forfeit after the deadline. Any reservations made after deadlines will forfeit the deposit.

Some weekends may require a minimum stay.

If available, early check in (before 2pm) or late checkout (no later than 4pm) is available for a fee. Due to crowd levels in the park early check in / late check out in is not available on Saturdays. Due to limited availability early/late checkout must be coordinated at time of reservation.

For the safety, comfort, and enjoyment of all our customers, please adhere to the following:

1. The Double Nickel is a daily rate campground. Discounts for longer periods are available at the office. No refunds.
2. The Double Nickel is a private campground; use of the facilities is for customers and registered visitors only. Please notify office of any visitors entering the campground. Visitors are welcome to use the facilities with purchase of a day pass. You are responsible for visitor behavior.
3. A parking pass is required for all visitors. Passes should be displayed in the front windshield and are available in the office. If you are expecting visitors please request additional parking passes when you check in.
4. Speed limit is 5mph in the campground. Please use designated roadways, do not cut through sites, and watch for children.
5. Quiet hours are from 10pm until 8am.
6. Check in is after 2pm unless prior arrangements have been made. Checkout time is 12pm. Late checkout/early check in is available for a fee.
7. Please do not change your assigned site without office approval.
8. Children 12 years and younger must be accompanied by an adult at all times.
9. Please put garbage in the bag provided and leave it at your site when you leave or put it inside the dumpster on your way out.
10. No cutting of trees or shrubs. Firewood sold at office. Campfires allowed only in fire rings. No burning of garbage in firepits.
11. All use of firearms or fireworks is strictly prohibited in the campground.
12. Running of generators is prohibited.
13. No washing vehicles or campers at site. (Using a squeegee and bucket on windshield is permitted)
14. Sewer donuts are required to prevent sewer hoses from falling in sewer.
15. No electric splitters: power pedestal wiring is rated for one connection per site.
16. The Sandy Meadows Golf Course is private property, please keep to the campground side of the white posts at all times.
17. Please do not move or remove porch swings or fire pits.
18. Personal golf carts are allowed but must be driven by a licensed driver. Please no "joy riding".

Pet Rules:

1. Pets are welcomed but must be leashed at all times.
2. Please pick up after your pet.
3. No aggressive breeds.
4. If you leave your site, pets must be inside a climate-controlled recreational vehicle.

The equipment, apparatus, and facilities furnished are solely for the convenience of guests and all persons using them do so at their own risk. The management will not be responsible for accidents, injuries, or loss of property by fire, theft, wind, or any act of God. Failure to comply with these rules or other request by management will result in immediate eviction, with no refund.
---