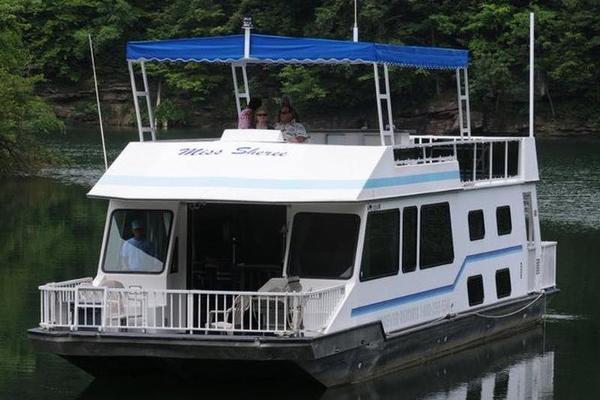 About Sutton Lake Marina
The ultimate vacation on the water! Week-end, Mid-Week, and Weekly Deluxe Houseboat Rentals. 59' Deluxe houseboat has will sleep eight comfortably in four queen sized beds. One full bath plus one half bath. Central heat and air. Well equipped kitchen with 4-burner cook top (no oven) plus propane grill on lower deck. Upper deck with fly bridge, canopy, and water slide.

Rental Periods (Check-in between 9:00 a.m. - noon the day of departure.)
Week-end - Friday/Saturday/Sunday (3-days/2-nights).
Mid-week - Monday thru Thursday (4-days/3-nights).
Weekly - Monday thru Sunday or Friday thru Thursday (7-days/6-nights).


Rental Rates
Peak Summer: June 12 - August 16
3-Day/2-Night Week-end - $1,645
4-Day/3-Night Mid-week - $1,645
7-Day/6-Night Week - $2,645

Early Summer May 8 - June 11 AND Late Summer August 17 - October 11 **
3-Day/2-Night Week-end - $1,195
4-Day/3-Night Mid-week - $1,195
7-Day/6-Night Week - $1,795

** Labor Day week-end (September 4-6, 2020) is at Peak Summer Rates.


To reserve a houseboat, we require a deposit of 1/3 the total rental amount. The balance due, plus a $500 refundable damage deposit (cash or credit card) is due at check-in. Rates do not include sales tax or fuel.