Your online booking system
Welcome to WebReserv.com, your online booking system. On WebReserv.com you can search for local businesses and products, view pricing and availability details and make reservations. It's like Yellow Pages with online booking.
Featured Listings
Log Cabins / Treehouses
Bed & Breakfast Inns
Campgrounds
Cabins on Indian Creek
Carbondale, Illinois
The Peacock Inn at Catawba Farms
Newton, North Carolina
Johnson's of St. Mary
St Mary, Montana
CABINS ON INDIAN CREEK combine rustic style with modern amenities including full kitchens, open layo
The Peacock Inn is a newly renovated five bedroom Bed & Breakfast Inn in an antique-filled farmhouse
Johnson's Campground, Cabins & Café.
Lazy Trout Motel & Cabin Rentals
Greer, Arizona
Bella Fattoria Bed and Breakfast
Berlin Center, Ohio
Priest Rapids Recreation Area Campground
Mattawa, Washington
Motel located in the small community of Greer Arizona located in the White Mountains of Arizona.
1899 Farmhouse walking distance to Mastropietro Winery.
The Priest Rapids Recreation Area (PRRA) includes a 3 lane boat launch, day use areas, 3.
Timber Ridge Outpost & Cabins
Karbers Ridge, Illinois
Serviam Guest House
Petersburg, Virginia
Faywood Hot Springs Resort, Inc.
Faywood, New Mexico
Rental Treehouses and Log Cabins nestled in the beautiful Shawnee Hills of Southern Illinois.
Serviam Guest House is a uniquely decadent all Adult Bed & Breakfast experience located in Historic
Faywood Hot Springs, a rustic natural geothermal resort in southwestern New Mexico.
Bullfrog Mountain Cabin Rentals
Butler, Ohio
Touchstone Inn
Taos, New Mexico
SLY PARK RECREATION AREA
Pollock Pines, California
Two cozy clean cabins in the woods in the heart of the Ohio valley near Mohican State Park, Malabar
USA Today : Touchstone Inn is "THE place to stay in Taos."
Official Reservation Site for Sly Park Recreation Area.
Guided Tours
Limousine Services
Bike Rentals
Chewonki Experiences for Adults & Families
Wiscasset, Maine
www.AIRPORTSHUTTLEDTW.COM
DEARBORN, Michigan
West Maui Cycles
Lahaina, Hawaii
Chewonki Guided Wilderness Vacations, Workshops and Family Camp
AIRPORT SHUTTLE TO DOWNTOWN DETROIT
Detroit Airport Shuttle to Cobo Center
Airport Shuttle DTW
West Maui Cycles rental fleet is one of the largest in the Hawaiian Islands with over 100 rental bik
Boston Pizza Tours
Boston, Massachusetts
Perry's Limousine Service
Detroit Lakes, Minnesota
Revolution Cycles
Washington, District of Columbia
Got Pizza? Discover historic Boston slice by delicious slice! Mixing Food, Fun and History like ne
Limousine Services
Revolution Cycles in historic Georgetown is centrally located to the areas best bicycles trails, off
Paddle Moab
Moab, Utah
Drivers Unlimited
Norwalk, Connecticut
Hutch's Bicycles - Eastside
Bend, Oregon
River SUP'ing is gaining increasing popularity in river communities like Moab where there are beauti
CT Limo Service & Airport Car Service - DRIVERS UNLIMITED
Hutch's Bicycles has a fleet of Intense, Specialized, Giant and Cannondale bicycles to suit your nee
Deep Desert Expeditions
Moab, Utah
Brahim Limo Taxi Service
Roswell , Georgia
Hutch's Bicycles - Westside
Bend, Oregon
Moab's premier family friendly backcountry guide service offering hiking, camping and backpacking in
Limosine Taxi Service
Hutch's Bicycles has a fleet of Intense, Specialized, Giant and Cannondale bicycles to suit your nee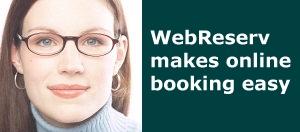 Get Listed!
Get your business listed on WebReserv.com, the best online booking system, and you can start accepting online bookings right away without having to buy new software or hardware.
Everything you need can be handled on WebReserv.com, from setting up your products and rates to managing the bookings - and best of all, you can start using it right away.
Advertisement