Your online booking system
Welcome to WebReserv.com, your online booking system. On WebReserv.com you can search for local businesses and products, view pricing and availability details and make reservations. It's like Yellow Pages with online booking.
Featured Listings
Vacation Rentals
Campgrounds
Hotels
Lake Anna Glass House
Spotsylvania, Virginia
The Old Pecan Grove at Dixie Kampground
San Antonio, Texas
Hidden Rest Cabins
Lakeside, Arizona
The Glass House on Lake Anna is a 5 Bedroom 4 Bathroom vacation rental home for rent on Lake Anna in
The Old Pecan Grove at Dixie Kampground is easy to get to, easy to navigate around, and it's easy to
Hidden Rest Spa-Cabins and Lodging. Pinetop-Lakeside, Arizona. 928-368-6336.
Palm Tree Paradise
Panama City Beach, Florida
Tuscumbia RV Park
Tuscumbia, Alabama
The Paniolo Ranch
Tucson, Arizona
Panama City Beach,on the beach.
Centrally located between Tuscumbia and Barton Alabama.
The Paniolo Ranch - Tucson, Arizona - Vacation Room Rentals - Events & Equestrian Facilities.
Chewonki Wilderness Camp on Fourth Debsconeag Lake
Greenville, Maine
Molas Lake Park and Campground
Silverton, Colorado
Green Valley Motor Lodge
Nashville, Indiana
Chewonki Wilderness Sporting Camps on Fourth Debsconeag Lake
Molas Lake Campground (Rated "Most Scenic Campground in Colorado" - by AAA) provides visitors with u
Green Valley Motor Lodge is a small, two-story 30 room motel located in beautiful Brown County, Indi
Weaver's Rest Cottage
Berea, Kentucky
Hazen Bay Recreation Area
Hazen, North Dakota
Adriatic Villa Resort
Palm Springs, California
Located in the heart of Berea, KY Weaver's Rest is just 3 miles off of I-75 and within walking dist
Hazen Bay Recreation Area is a full service Campground located on beautiful Lake Sakakawea.
The Adriatic Villa of Palm Springs is located 4.5 miles from the Palm Springs Aerial Tram.
Guided Tours
Bike Rentals
Boat Rentals
Amish Experience / Amish Country Tours
Bird-in-Hand, Pennsylvania
Mike's EBikes LLC
Avon, Colorado
Marina Boat Rentals, Newport Beach
Newport Beach, California
Daily Amish Farmlands Tours since 1959, Jacob's Choice in our special effects theater, and the Herit
Electric bike rentals delivered to your hotel or residence. Glenwood Canyon trail head drop off.
Home to Newport's largest & most diversied boat rental fleet.
Chewonki Experiences for Adults & Families
Wiscasset, Maine
Patriot Tours & Provisions
Yorktown, Virginia
Klave's Marina, Inc
Pinckney, Michigan
Chewonki Guided Wilderness Vacations, Workshops and Family Camp
Segway PT Tours daily in Historic Yorktown and at the Kingsmill Resort and New Quarter Park in Willi
Klave's Marina is a full service marina/boat dealership specializing in pontoon, SUP, Kayak sales an
Antelope Canyon Tours, Inc
Page, Arizona
Boats & Bikes
Howard, Pennsylvania
Lake Parlin Lodge & Cabins
Parlin Pond Twp, Maine
Upper Antelope Canyon tours provided by Carolene Ekis - Antelope Canyon Tours, Inc.
Located at Bald Eagle State Park, Boats & Bikes provides a wide variety of boat rentals, bike rental
Directly on scenic Lake Parlin. Rafting, Boating, Fishing, Hiking, Hunting, Snowmobiling, WiFi.
Everglades Excursions
Naples, Florida
Hutch's Bicycles - Eastside
Bend, Oregon
Anglers Point
Chesterfield, Michigan
Everglades Excursions Full & Half Day Safari Adventures
-Guided Tour
-Airboat Ride
-AAA Ap
Hutch's Bicycles has a fleet of Intense, Specialized, Giant and Cannondale bicycles to suit your nee
A fisherman's paradise, with beautiful loft's, boat dockage, trailer storage, fully stocked Bait & T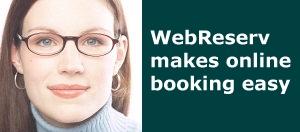 Get Listed!
Get your business listed on WebReserv.com, the best online booking system, and you can start accepting online bookings right away without having to buy new software or hardware.
Everything you need can be handled on WebReserv.com, from setting up your products and rates to managing the bookings - and best of all, you can start using it right away.
Advertisement