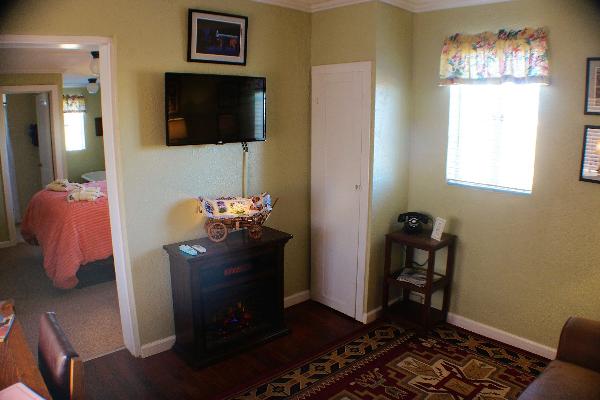 About Blue Swallow Motel
Named for long-time owner/operator Lillian Redman, this unique two-room suite features comforts and amenities not found in any other room at the Blue Swallow. .

The Lillian Redman Suite features a comfortable parlor with original 1940 hardwood floor, divan, and 32-inch digital flatscreen TV. The separate bedroom features 1937 antique queen-sized bed and matching dressing table. There's also a 26-inch digital flatscreen TV there if you want to catch up on what is going on in the outside world. The bathroom features a step-in shower, plus an antique claw-foot bathtub.

As all the rooms at the Blue Swallow, the Lillian Redman Suite features period decor, but in a roomier and more luxurious setting than our standard rooms. Perfect for the special occasion, or multiple-night stay in Tucumcari.

2 people. An additional guest may be allowed with permission in advance.

Non-smoking, no pets.