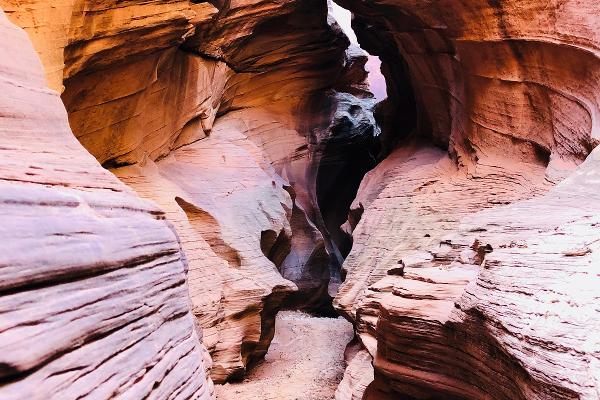 About Antelope Canyon Tours, Inc.
Tours run 7-8hrs total | advance Hiking is involved.
(click photo to left for more info)
(click "Book" to see if there are seats available)
requires a minimum of 2 persons, one can always buy two tickets.

This tour is sold by Request Only
we would like 2 plus weeks' notice.

apologies for the confusing website/layout.

Tours depart from our office location:
22 South Lake Powell BLVD in Page AZ
we will provide transportation, it will take us just over an hour to arrive at the trailhead.

To reach the slot canyon we will hike down the dive (5,000ft to 4,000ft in elevation), scale down 100 ft to enter the canyon, some rope use is required (bring gloves), once we're inside the slot canyon we can go east or west, hike for 3hrs and make our way back to our SUV, the climb uphill can take over an hour (steep).


Steep hills, walking on slick rock is involved, those joining tour must be experienced hikers with strong legs and strong ankles. Some rope climbing is involved.

Please pack your own water and food, our guide will have emergency rations just in case.
This tour is very seasonal, flooding can be an issue so sudden cancellations are possible.


Packing your own gear is required.
Adult rates are 13 yrs and older
Child rates are 12 and younger.
Babies are not suggested on either tour, but they can go, just not for free - they too must pay.


Cancellation Policy:

Please provide us with 7 plus days for cancellation, this will give us an opportunity to resell the seats, failure to cancel will result in penalty fees. Cancellations within the 7-day window agrees to pay a 20% restocking fee.

Credit card details are used to guarantee your reservation, no advance payments will be made - payment is collected at time of check-in - No Shows agree to pay 75% of the tour cost; so be sure to arrive on time and remember our cancellation policy.

please note this location can be visited without a guide, why are we offering guided service? we handle the task of transport, safety, and knowledge of the area.