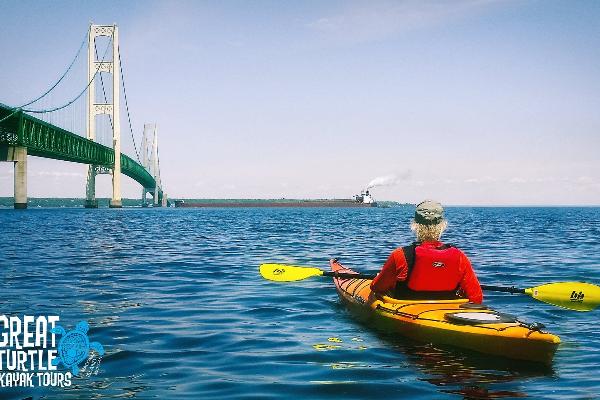 About Great Turtle Kayak Tours
Enjoy a spectacular tour around the Mackinac Bridge. Glide through the clear waters as you view Fort Michilimackinac from the water. Venture around passing sailboats near the shores of the Michilimackinac State Park and take in the gorgeous views. Test your paddling skills by maneuvering under the bridge and around the towers. Our guides will help you to become comfortable enough to journey just beyond the shore to experience the wide open waters of the Straits and to catch a stunning peek at the lighthouse and passing freighters.

*Launches from our Mackinaw City location, next to the Visitor's Center at Michilimackinac State Park.

Our Ultimate 16' & 14.5' 2-seater (tandem) kayaks by Liquid Logic & Native Watercraft are super stable and comfortable. You can choose to ride with 2 people, or have our guide accompany a single person. They are great for beginners and experienced paddlers alike, and will accommodate weight up to 650 lb.

We send a guide with all of our tours. They give beginner's dedicated attention and instruction on the shore and on the water. They can also show you the best sights, with the history to go along with it.

Every booking includes your trained tour guide, life jacket, paddle, and a beautiful perspective of the waters of Mackinac Island.

Please meet on the beach 15 minutes prior to your reservation, so that we can get out on the water on time.

After adding tandem kayaks, you can also add single kayaks or stand-up paddleboards to your booking.