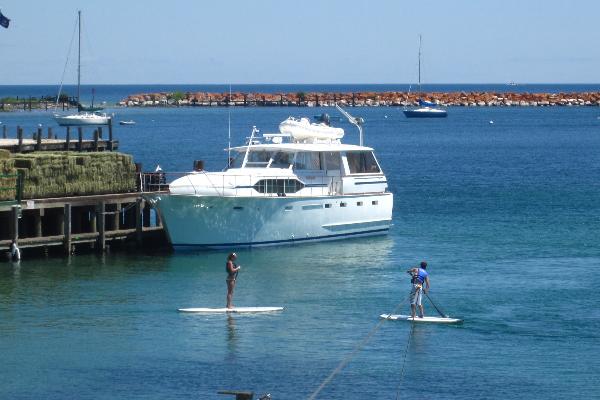 About Great Turtle Kayak Tours
Our Basic Bay Class begins with a shore-side lesson on the basics of SUP(stand up paddle board). We then take a guided paddling warm up and anchor in our bay right off of the GTKT beach to begin our class in earnest. Our opening poses will keep our center of gravity close to the board as we begin to explore the relationship between our balance, and the water. With vinyasa as our base, we'll link breath to movement, meaning we'll transition steadily through poses, but use repetition and core strength to remain steady and centralized and not become overwhelmed. We'll eventually sequence into standing sun salutations and warrior poses. Open and appropriate to all levels. We'll guide you through everything you need to know!

Why SUP? Why Yoga? Why Mackinac?
SUP Yoga is the latest trend in aquatic recreation is gaining popularity quickly across the nation, and Great Turtle Kayak Tours is excited to be bringing it to Mackinac Island this season. SUP changes the yogi's relationship with balance; forcing the practitioner to concentrate and come fully into the present, while engaging core and stabilizer muscles. For seasoned yogis fundamental poses are suddenly rediscovered in new ways and with fresh awareness. For beginners, this can be a great way to have fun, splash around, and try something new! Our SUP guide/Yoga instructor teaches beginners daily. Not only is SUP Yoga an exciting physical and mental practice—it takes place on beautiful Lake Huron. Find solace and solitude as you leave worries on the shore. Mackinac Island is world famous for its beautiful coast and sights. Allow the splendor of the island and the wonders of the natural world to fill your heart with gratitude throughout this mindfulness practice. Gift yourself this unique experience of communing with your inner self and nature in the midst of stunning Lake Huron. You won't regret it.