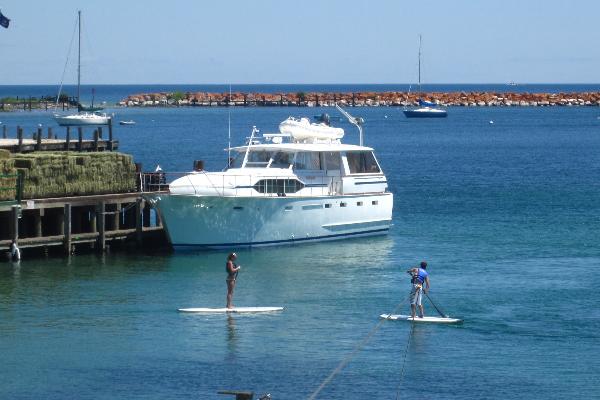 About Great Turtle Kayak Tours
Our Meditation Vacation Class is Part stand up paddle board tour part yoga class, we meet on the beach for basic instruction before paddling over to one of our beautiful scenic spots along the coast. From there, we begin our yoga practice surrounded by the beautiful natural wonders of Lake Huron. Get away from the hustle and bustle of downtown Mackinac and enjoy the tranquility of the water while practicing a vinyasa-based flow yoga. Class finishes with a group meditation and savasana before a contemplative return trip back. A wonderful way to begin or end a vacation, this class is open and appropriate to all levels.

Why SUP? Why Yoga? Why Mackinac?
SUP Yoga is the latest trend in aquatic recreation is gaining popularity quickly across the nation, and Great Turtle Kayak Tours is excited to be bringing it to Mackinac Island this season. SUP changes the yogi's relationship with balance; forcing the practitioner to concentrate and come fully into the present, while engaging core and stabilizer muscles. For seasoned yogis fundamental poses are suddenly rediscovered in new ways and with fresh awareness. For beginners, this can be a great way to have fun, splash around, and try something new! Our SUP guide/Yoga instructor teaches beginners daily. Not only is SUP Yoga an exciting physical and mental practice—it takes place on beautiful Lake Huron. Find solace and solitude as you leave worries on the shore. Mackinac Island is world famous for its beautiful coast and sights. Allow the splendor of the island and the wonders of the natural world to fill your heart with gratitude throughout this mindfulness practice. Gift yourself this unique experience of communing with your inner self and nature in the midst of stunning Lake Huron. You won't regret it.