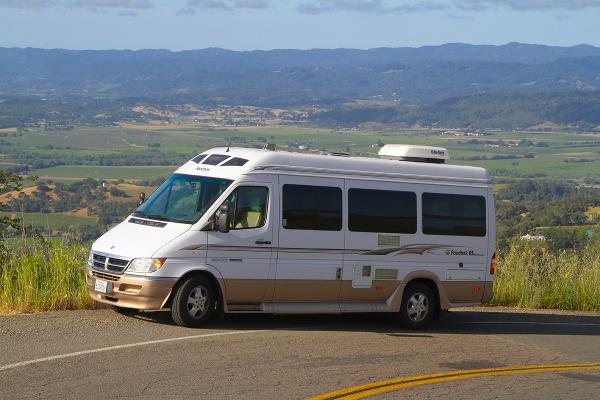 About Gypsy Wind RV Rentals
May the road rise up to meet you.
May the wind always be at your back.
May the sun shine warm upon your face.
And rains fall soft upon your fields.
~Irish Blessing

(Owner's note: This poem started me on my path as an RV traveler. I named my RV 'Gypsy Wind'. I desired to get behind the wheel and follow the 'gypsy wind', seeing where the road would take me: stopping along the way at the perfect little spot to have lunch along a river; staying tucked in among the yellow aspen trees in the fall; camping on the beach, falling asleep to the sounds of the waves crashing; nestled in the Redwoods on a hot summer day feeling the coolness of their shade and listening to the wind blowing through their branches. Quiet nights under the stars sitting next to a campfire; hands warmed with morning coffee as I watched the sun rise over the ridge. All this is available for you when you travel on your own road to the places you feel drawn to, and when you travel in your very own RV.)

'Gypsy Wind' is a 2006 Roadtrek RS Adventurous, which combines legendary Mercedes-Benz engineering with the ingenious RV creativity by Roadtrek. Sleeps 2 adults and 1 child with 3 seats.

Powered by a Mercedes 2.7 L CDI 5-cylinder turbo diesel, you get unsurpassed fuel economy - 21-23 mpg, also durability, safety, practicality, comfort and quality. She motors up hills easily, handles beautifully on curves and parks in regular parking spaces... drives like a SUV, yet has all the comforts of home!

Sleeping for 2 plus 1 child, either in back on twin beds or made up into a king size bed (66" x 76") plus folding mattress in on front seats for child. Three captain seats offer comfort while driving down the road, swivel for optional dining, game playing, TV watching or lively conversation.

Behind the driver's seat is a custom countertop and drawer made of black acacia wood. Tucked below and out of the way is a crate measuring (24"l x 19"d x 20"h). This space is perfect for your small dog to ride safely. It can also be used as extra storage space. The counter gives you extra space for food prep or for use as a desktop, leaving plenty of interior space for others to move about.

Panoramic windows from front to rear along driver's side kitchen provide daylight and openness unrivaled in any other class B. Windows surround three sides in back area which can be used as a lounging area, made into a dinette for eating or used as either twin beds or king size bed. There are blinds for all the windows and surround curtains in the front for privacy.

The ability to dine at the front lets you leave the rear beds made up for sleeping full time. People can wake up and retire at different times, plus you don't have to set up a dinette or sofa to eat every morning or make up a bed every night.

The back doors open fully to allow the feeling of being in nature, and provide easy access to underneath storage. Imagine parked next to a creek, doors open, listening the sounds of the water, feeling the breeze upon you, smelling nature's fresh air! And should any bugs appear, included is a net that covers the back doors to keep bugs at bay.

There is plenty of storage inside for your belongings, including a hanging closet and underneath storage for larger items.

The permanent bathroom's unique doors maximize aisle width when the bathroom's not in use, yet when in use there's ample space inside while keeping the aisle clear. Inside you will find a toilet, vanity sink and stand-up or sit-down shower. There is also an exterior shower for quick rinse offs.

The galley kitchen houses a 2-burner propane stovetop, built-in microwave/toaster/convection oven, under-counter refrigerator with freezer, stainless sink and hot water heater, furnace, roof air-conditioner, ceiling fan, 17" flat screen TV and DVD player.

The Onan generator starts with a flick of a switch to power all the inside appliances. Two marine batteries allow you to use lights, refrigerator, heater and some electrical sockets and can last for days without the need for recharging.

Tank capacities: Fuel - 26 gal. Fresh water - 30 gal. Grey water - 24 gal. Black water - 10 gal.

Well-behaved dog allowed with prior approval and additional pet security deposit.

Available for rent: Please check with us for current fees.
Bedding/Linen Kit
Camping Kit: includes: Camping Chairs, mat, small table, picnic cloth
Portable Barbeque: includes: 2 bottles of propane
Awning Use: (no insurance)
Eco Hammock:includes Suspension for hanging
Folding Mattress:(for use on front seat)
Bicycle Rack: (holds up to 3 Bikes)

Complete list of housekeep kit items will be sent to you ahead of time.