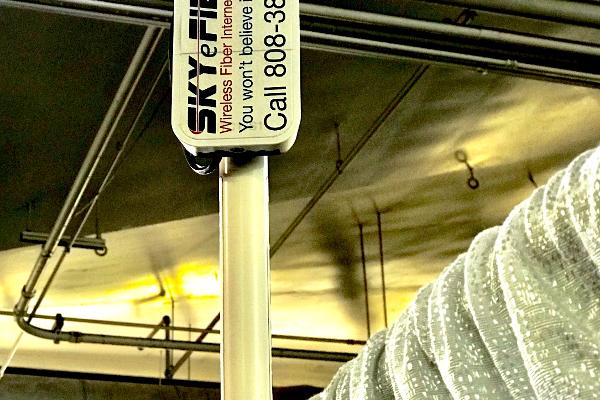 About Tech In The City•Wi-Fi Rentals
Employs a mmWave low latency, high bandwidth transceiver to provide you with an Ethernet connection with an up to 100/100 Mbps connection to our Fiber network in the Blaisdell Exhibition Hall.

You can then connect a DHCP Ethernet Enabled device* to the supplied CAT6 Ethernet cable.

*Your Device could be a Computer, Switch, Router, Point-of-Sale terminal or another item that is DHCP Ethernet enabled.

NOTE: an Ethernet Switch, or a Wi-Fi Access Point, is available for an additional $40 each.

We can support a Public Static IP for your device at an additional Charge of $75.00. If you select this option you will be supplied with the assigned Public IP address, Subnet Mask, Router IP and two DNS IPs

The $149.99 price includes installation Labor and an Unlimited Data connection to our Fiber network for up to 4 days. An up to 4-Day rental of the equipment. And the installation of the SKY eFIBER transceiver unit at your booth, up to 25' CAT6 Ethernet Cable, Ethernet Power injector and Power supply.

NOTE: You must have ordered power to be in your booth in order for this to work.