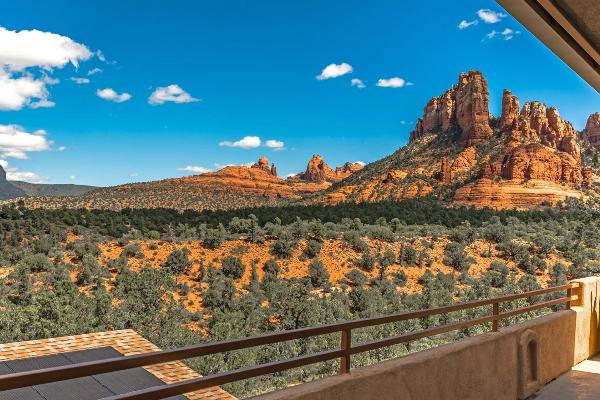 About Vista Ridge Sedona
Situated on one of the most spectacular red rock view locations in Sedona
the property is tucked along a hillside ridge of dedicated forest service area
home to wildlife which includes deer, javelina, bobcat, coyote and the
powerful symbol of freedom, eagles.

The condo has dramatically large windows to view the rock formations and
the wildlife and yet is not visible from any adjacent residences, parking
areas or paths in the exclusive community.

Despite amply privacy in location, Vista Ridge offers direct access to fine
quality and mid-range dining locations and is a stone's throw to vacationer
shopping at the Hillside Plaza.

A privacy gate, accessible only to designated guests, leads up an outdoor
stairway to a keypad protected entry. The main entrance which opens
directly to the living room. The interior features a recently reimagined
interior with rough edge stone flooring, cherry-wood cabinetry, stainless
appliances and modernized stone and glass baths. A granite top kitchen
bar partially separates the great room design. All main living faces toward
red rock views and the nighttime glitter of the resort town of Sedona.

A venture outside reveals the sumptuous digs are granted complimentary
access to Marg's Trail, a moderate level hiking path, which leads either to
the designated forestry or to the covered parking and access to the
gardens with the bocce court, water features, and barbecue patios.