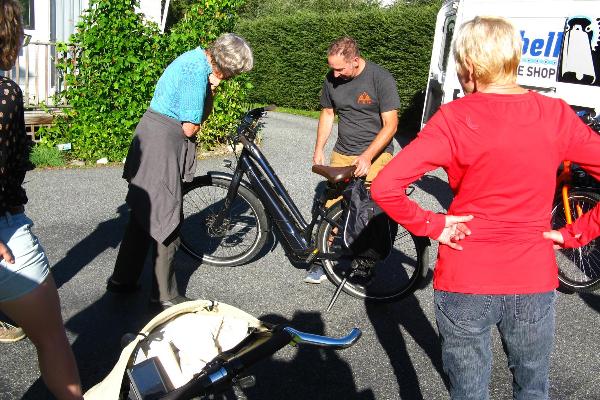 About Upper Valley E-Bike Lending Library
The Upper Valley E-Bike Lending Library is a selection of four e-bikes of assorted styles and retail costs, from a "cargo e-bike" that can haul groceries or kids to a lighter-weight "commuter e-bike." People can borrow and try these e-bikes for free to discover what e-bikes are really like and consider whether one could become part of their everyday lives. So far, more than a third of the people who have borrowed Library bikes said they plan to buy one of their own.

In 2022, the Library will travel to 13 Upper Valley towns and one workplace (Hypertherm). While the e-bike is stationed in a particular place, residents from that town (or employees of the workplace) can sign up to borrow one of the e-bikes for 1-3 days. Many of the articulating towns also will hold "Demo Days" at which people can see all four e-bikes and take them for quick spins.

HOW TO BOOK A BIKE
Step 1: Find your town's name listed below. If you do not see your town, the booking schedule is not live yet. Check back approximately one month before your town's start date to book.
Step 2: Click on the bike photo to see the description of the e-bike's specific features, and details on how to manage pickups and drop offs of the e-bikes in your town.
Step 3: Click "BOOK" on the town-bike pairing of your preference.

Questions? Email anna@vitalcommunities.org to get connected to your local town representative

Don't see your town listed yet? Local town schedules will be posted approximately 1 month before the first reservation date. When choosing an E-Bike Booking Slot from the list below, be sure to choose your town of residence or work!