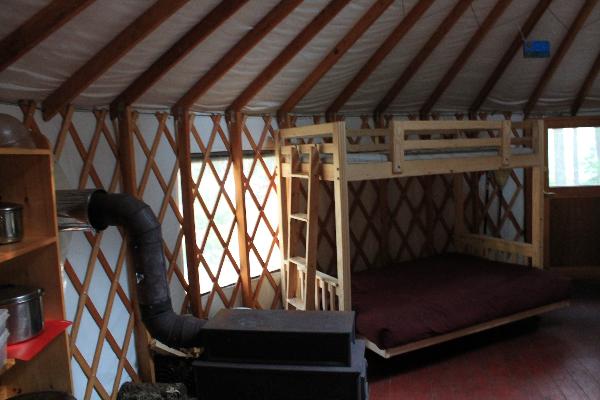 About Chewonki's Debsconeag Lake Wilderness Camps
24-foot-diameter yurts provide a modern setting with roots in nomadic tradition. Yurt #1 (Sundew) as three bunk beds (6 single beds), and one futon below single bunk.
Campers should provide their own lights & sleep setup (sheets/sleepingbag, pillow, etc). Small camp stove and kitchen ware provided. No running water - can use lodge to fill water jugs & clean dishes.
2 night minimum. Yurt rate is based on full occupancy.

Please call Lesley Heyl, Site Manager
Debsconeag Lake Camps
207-460-5226 (May-Oct) 207-882-7323 (Oct-May) dlwc@chewonki.org

Cancellation policy:
Once a reservation has been completed, there will be no refunds. Due to the nature of our seasonal business we require a two-week notice in the event that you need to reschedule your visit. Rescheduling may be done within the same calendar year based on availability. To reschedule a reservation please contact dwlc@chewonki.org.