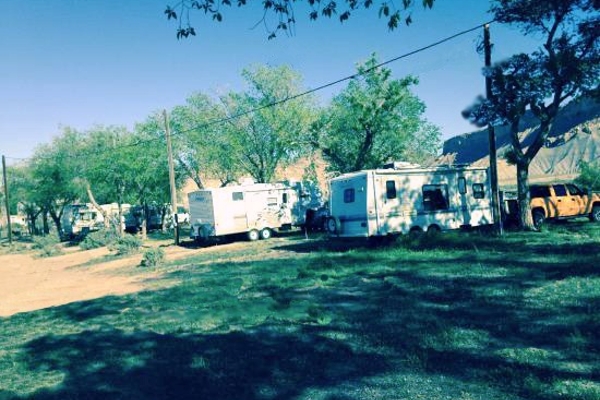 About Desert Moon Hotel and Trailer Park LLC
The Desert Moon Hotel and RV Park has been serving the greater Moab area since the Coal Mining days of the early 1930's, with 9 RV hook up sites, 8 tent camping sites, and 6 private rooms available for rent. We are situated in the little town of Thompson Springs (population 40-50) just off of I-70, next to the Union Pacific Railroad. The RV Park is located right next to the Desert Moon Hotel, which was built in 1936 and served many travelers, miners, railroad workers, truck drivers, and tourists over the years.

Shade trees, electricity, water, and sewer utilities are available at each RV parking spot.  We also have modern restrooms and shower facilities to accommodate tent campers and smaller pop-ups. We also rent out our hotel rooms at Desertmoonrvpark.com.

There are 12-15 staff members living on site in their personal RV's at all times. We are a small little community and are always working on projects to improve the property. Feel free to come say hello and ask us about what we are building here!