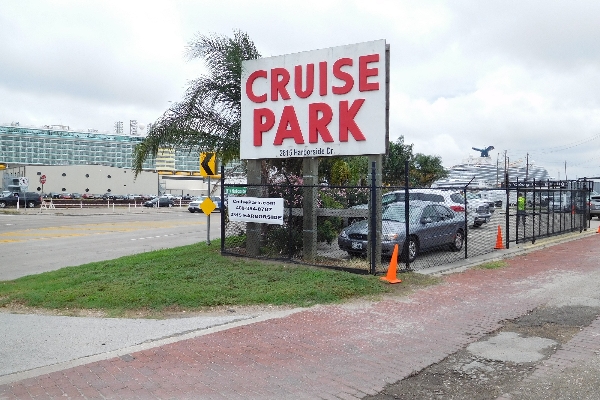 About Cruise Park


Cruise Park offers Galveston cruise parking for Terminals 1 (pier 25) and 2 (pier 28). We are about 5-7 minutes walk to the cruise terminal pedestrian cross walk at 25th Harborside.

Booking Calendar is open for Reservations through June, 2023 Scroll down past photos to see Calendar.

From our lot, the distance to the cruise terminal pedestrian crosswalk at 25th Harborside Drive is 1400 feet.
For most people, that distance is about 5-7 minutes walk, average pace, taking New Strand to Harborside Drive. At Harborside, you can cross the street to get to your cruise ship. PLEASE CONSIDER YOUR ABILITY TO WALK, AS WELL THOSE PERSONS IN YOUR PARTY, BEFORE MAKING A RESERVATION AT A PARK AND WALK LOT.

Please note: Parking must begin on a Saturday or Sunday and return on the following Saturday or Sunday. This schedule does not allow for any Royal Caribbean or Carnival 4 nights or 5 nights cruises as the lot is closed Monday through Friday. Parking dates must match the dates of your cruise - no exceptions.

Currently, the ships being served are:
Carnival Dream (6 nights, 8 nights, and 14 nights Journey Cruise)
Carnival Vista, Sat to Sat cruise schedule.
Ruby Princess parking starting in January, 2023 is available.

******************PARKING FOR RCCL SHIPS IS NOT AVAILABLE.
ROYAL CARIBBEAN HAS MOVED FROM TERMINAL 2 (PIER 28) TO TERMINAL 3 (PIER 10).
*****THE DISTANCE FROM OUR LOCATION to PIER 10 IS ABOUT 1 MILE.*****

Saturday and Sunday Hours at the Lot: OPEN 7:00 A.M. Close 2:00 P.M.

------------Scroll down to Booking Calendar past the photos. -------------
You can check parking space availability for your cruise at the booking calendar. The booking calendar is open approximately 60 to 90 days out from the current date.

*************************************************************************************************************************

CRUISE PARK 2815 HARBORSIDE DR. GALVESTON, TX 409-354-8787
Cruise Park opened in 2011. Locally owned and operated. Located on the main thoroughfare (Harborside Drive) between 28th and 29th streets. on same street as the cruise port. This page should contain information to answer most questions about location, walking distance, and interaction with baggage drop-off at the cruise terminal.

When you book cruise parking, you may notice an advertisement for coupons at the page bottom, but CRUISE PARK does not participate as a coupon advertiser. The coupons are offered by other Webreserv.com companies promoting a discount for their different services and products. When we offer a promotion it is clearly noted in the price schedule.

GENERAL INFORMATION *****************************************************************************************************

Cruise Park is a Park & Walk lot. We do not operate a shuttle to or from the cruise terminal. Presently, golf carts previously offered for transportation assist at the crosswalk will not be available, going or coming. Cruise Lines allow passengers and baggage to be dropped off and picked up at the cruise terminal.

Look at the Google map at the top. The "satellite view" gives an excellent orientation of the area.

The easiest way to handle baggage and accommodate other people in your party is to go directly to the terminal and drop off baggage. It usually takes only a few minutes. Per the cruise line regulations. all large size baggage must be checked before boarding.

Thanks for considering Cruise Park!
***********************************************************************************************************************
FIRST TIME GALVESTON CRUISERS INFORMATION.

Galveston's Cruise Ship Terminals operate almost in the same manner as many Airport Terminals. Passengers are screened and baggage x-rayed.

(Recommended action before parking) You can drop-off passengers and larger size baggage at the terminal. Just drive to the terminal where your ship is docked. The cruise lines have porters for your convenience, if needed..

Over-size baggage must be checked at "baggage." Only smaller sized items will fit thru the x-ray machine at passenger screening. Also, your passengers may go to security check-in while you park. It won't take long to rejoin your party after parking.

The cruise terminal is a relatively small facility and easily navigated. Basically, no one becomes "lost."

BOOKING CALENDAR NOTATION

"If a Saturday or Sunday is half red and half green (in that order) on the booking calendar, you can reserve parking for the week that is green. If the Sunday is totally red, parking is not available for that date."

If you are cruising back to back, the reservations will require a separate reservation for each week.