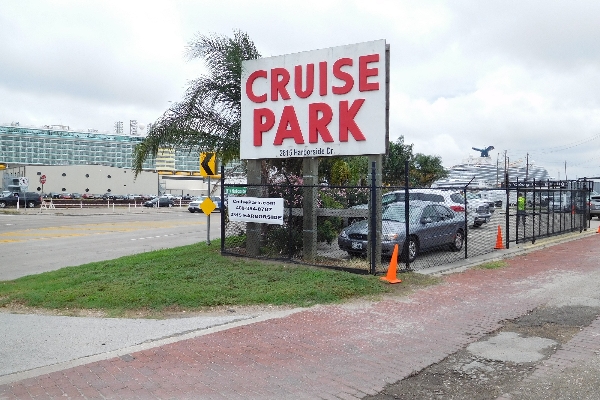 About Cruise Park
Cruise Park is a small business/owner/operated parking lot in operation since 2011. It is for passengers looking to park close with a short walk to the terminal. A less expensive alternative for long-term parking for cruises out of Galveston, Texas.

Parking accommodation is for Sunday to Sunday cruises only (7 nights) for RCCL and Carnival.

No shuttle to or from the cruise terminals. CRUISEPARK is an alternative to being shuttle dependent when returning from the cruise. This can be especially beneficial for early debarkation when you are trying to expedite your departure.
Being a Park and Walk lot, it is within walking distance to the terminals, and thereby avoiding a shuttle line.
Specifically, it is 1400 feet on New Strand to the pedestrian cruise terminal crosswalk at 25th Harborside Drive.
That distance is about 5-7 minutes walk, average pace.

Cruise lines allow passenger and baggage drop off/pickup at the terminal. It is convenient to hand over your non-carry-on baggage to the cruise line porters before parking.

Booking Calendar is further down this page.

**********************************
Parking at CruisePark - Quick and Simple Vehicle Accommodation for your cruise experience.

Easily located on the main thoroughfare (Harborside Drive), across the street from the Royal Caribbean terminal.

Open 7:00 AM - Accessible for early debarkation - passengers who depart the ship and clear US Customs early.

Lot is fenced and locked, well illuminated, concrete surface, marked spaces.
You retain your vehicle's keys.


**************PRICES***************** $59.00 Weekly cruise parking

Check the Booking Calendar below for availability over the next 90 days. Reservations may be made no more than 90 days in advance. For reservations further out than 90 days, please wait and try later.

Sunday Hours: OPEN 7:00 A.M. Close 2:00 P.M.

If you have questions, please call prior to completing a reservation for a parking space.
Consider your own circumstances before booking cruise parking at a "park and walk" lot.

CRUISE PARK 2815 HARBORSIDE DR. GALVESTON, TX 409-354-8787

BOOKING CALENDAR EXPLANATION

"If a Sunday is half red and half green (in that order) on the booking calendar, you can reserve parking for the week that is green. If the Sunday is totally red, parking is not available for that date."

Cruise Parking must start on Sunday and end on Sunday (7 nights). Lot is not open Saturday or Monday for 6 or 8 night cruises.