With WebReserv you can select what email template to use when a reservation is pending, confirmed, declined or cancelled. If you do not want a particular email to be sent to customers, then you can choose None (no message/email) for that template. In addition to the default templates provided by WebReserv, you can define your own email templates.
A customer will automatically receive a reservation email under the following circumstances:
| | |
| --- | --- |
| ▪ | A new reservation is made |
▪

Reservation status changes from

pending

to

confirmed
| | |
| --- | --- |
| ▪ | Start date/time or end date/time is changed |
| | |
| --- | --- |
| ▪ | The product has been changed. |
In any of these circumstances a reservation email is automatically sent to the customer.

You can also designate if you want a Pre-Visit and/or Post-Visit email sent to customers. These notifications are designed to prepare and remind your customers of their upcoming reservations and to thank them for their business after their reservation. (Note: this feature is only available to Gold account users.)

In addition to sending notifications to your customers, you will receive a notification email whenever a new reservation is made. It will be sent to the email address you used when you created the account, but you can also add additional email addresses here.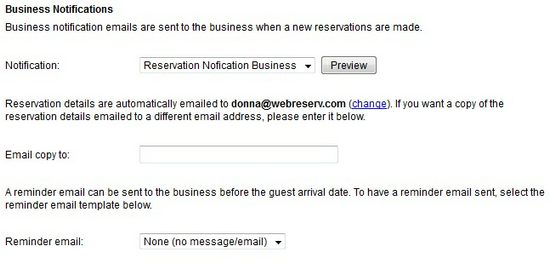 ---
For more information. . .