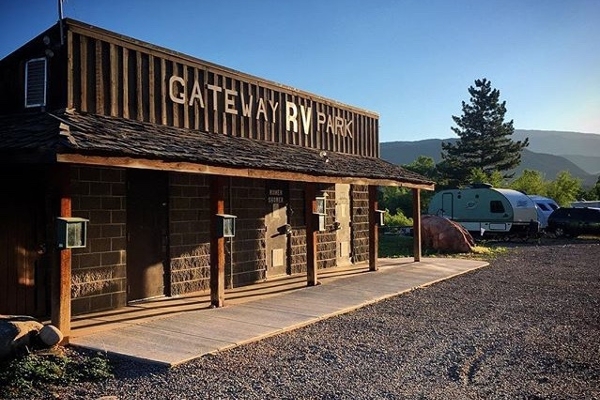 About Gateway RV Park
Gateway RV Park is open May 1-October 1.

If you make a reservation and need to change anything (dates, sites, etc), please contact the Camp Host at 970-379-8151.  If you cancel and rebook on your own, you will still be charged a cancellation fee for the original booking.

No type of tent nor any type of car camping are allowed in Sites 1-19.  This includes ground, rooftop, and truck bed tents.  Tents are only allowed in the Group Tent Site. Maximum 4 tents and 12 people.

Full Hookup Pull-Through Sites (35-45ft max): $58/night; $385/week; $731/2 weeks
Full Hookup Back-In Sites (25-34ft max): $54/night; $359/week; $682/2 weeks
Water/Electric Back-In Sites: $44/night; $289/week; $549/2 weeks
Electric Only: $37/night; $246/week; $467/2 weeks

***Weekly discounts are available. Two week stay limit for RV sites. Guests must be out of the RV park for one week before they can re-book a site. New for 2022, all sites will have 50/30/20 amp service.

Due to the limited capacity of our tanks, non-guests are not permitted to utilize the dump station.